22. März 2013
Diese Woche lautet die Herausforderung bei den Daring Cardmakers eine Karte in Chalkboard-Technik zu machen. Dabei soll es so aussehen, als wäre eine Tafel mit Kreide beschrieben bzw. bemalt werden. Das Bild ist also nicht unscharf – das g'hört so! Eine detaillierte Anleitung findet ihr hier.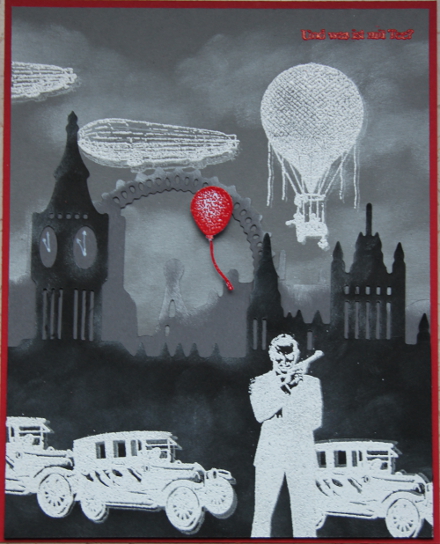 Leider ließ sich der Text nicht so gut fotografieren, deshalb hier nochmal in groß. Auf dem Ausschnitt kann man auch die Technik ein bisschen besser erkennen. Ich habe erst weiß embosst und dann mit weißem Brilliance Stempelkissen ein bisschen versetzt gestempelt.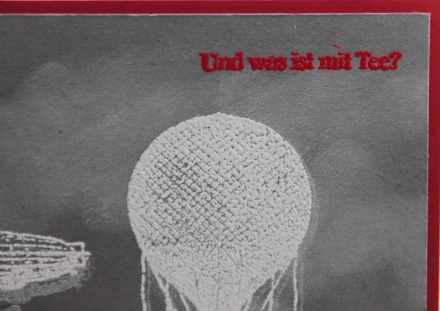 This week's challenge at Daring Cardmakers is to make a card using the chalkboard-technique, that is to make it look like written/drawn in chalk onto a blackboard. So my picture isn't blurred, the card actually does like this  🙂  You can find a detailed tutorial here.
Unfortunately the text didn't catch well in the photo, therefore the detail pic. You can also see a little more of the technical bit. Basically I heat-embossed my stamping using white powder and than overstamped with white Brilliance ink just a little to the side.
The text translates: "And what about tea?" It refers to a german tv-ad but I thought it suited my british scene quite well. At least it suits the german stereotypical idea of britishness….