23. April 2015
Bei den drei Musen dreht sich diese Woche alles um Bücher – zum Beispiel ein Buchcover zu gestalten oder ein Buch in den eigenen Werken zu benutzen. Ich habe nach langem mal wieder ein Kulissenbuch gestaltet und hoffe, dass das auch zählt.
This week it's all about books at the Three Muses' – they have asked us to create a book cover or use a book in our work. After a long while I have made another tunnel-book – and hope that this will also count.
*
Das Cover habe ich mit Dylusions gesprüht.
The paper for the cover was sprayed with Dylusions spray ink.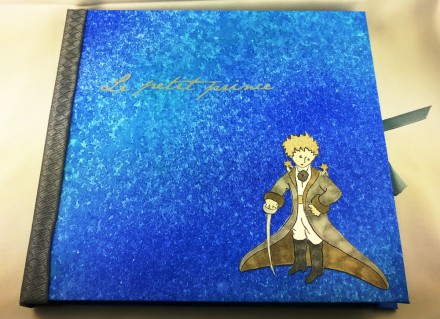 Die Seitenteile sind mit Versamark gestencilt und klar embosst, anschließend ebenfalls mit Dylusions gesprüht.
The leporello parts on both sides were stenciled with versamark ink and heat embossed with clear powder, then sprayed with more Dylusions inks.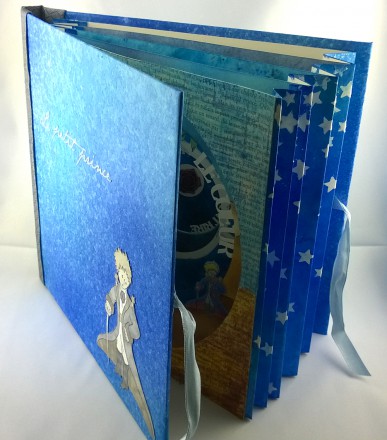 Das Innenleben ist in verschiedenen Techniken gestaltet.
For the inner pages I used different techniques.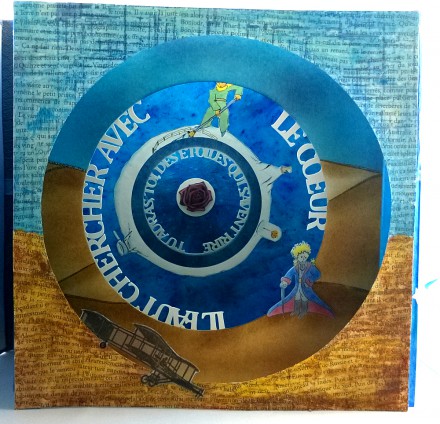 Seite 1 (Wüste und Flugzeug)
Hier habe ich Textschnipsel aus der französischen Ausgabe des kleinen Prinzen aufgeklebt. Mit Gelmedium überzogen und dann mit Neocolor II eingefärbt. Zum Schluss noch mit Distressfarben etwas gestencilt.
Page 1 (Desert and plane)
I glued some scraps from the french edition of "Le Petit Prince" on the page and sealed them with acrylic gel medium. Then coloured everything with Neocolor II markes and stenciled a little with some Distress inks.
*
Seite 2 (Du musst mit dem Herzen suchen.)
Mit Distressfarben gewischt.
Page 2 (You have to search with your heart.)
Sponged on some Distress inks.
*
Seite 3 (Planet des Prinzen)
Mit verschiedenen Brusho-Farben gestaltet (Danke, Ulrike!).
Page 3 (The prince's planet)
Made the background using several Brusho colours (thanks, Ulrike!).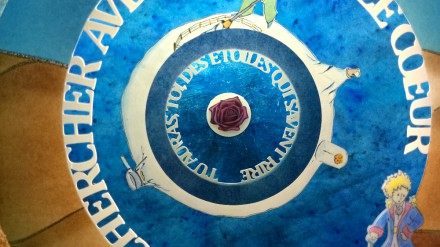 Seite 4 (Du allein wirst Sterne haben, die lachen können.)
Mit dunklen Distressfarben gewischt und noch ein bisschen mit Wasser gespritzt.
Page 4 (You alone will have stars that know how to laugh.)
Sponged on some darker Distress inks then splashed a little water over the surface.
*
Seite 5 (Rose)
Die Brusho-Farben von Seite 3 waren ziemlich nass und ich habe sie mit etwas Küchenrolle aufgesaugt. Die war danach so schön blau, dass ich sie hier unbedingt weiterverwenden musste.
Page 5 (Rose)
The Brusho colours I used on page 3 were rather wet so I soaked them up with some kitchen towel. The paper towel had turned such a lovely blue colour afterwards – I simply had to use it here.