3. Januar 2014
"Colour me happy" heißt das aktuelle Thema bei den drei Musen. Und die eine Farbe. die mich immer wieder glücklich macht heißt peacock feathers.
Die Karte ist ein Erinnerungsstück an den Kroatienurlaub im letzten Jahr. Die beiden runden Stempel habe ich an meinem Geburtstag an einem Flohmarktstand in Split gekauft. Wir haben dann noch ein wenig mit dem Herrn am Stand geplaudert, der mit uns lieber deutsch als englisch sprach – er hat nämlich 30 Jahre bei der gleichen Firma "geschuftet", bei der mein Liebster heute tätig ist. Lustig, oder? Und so kam es wohl, dass er mir zum Abschied noch ein paar alte kroatische Geldscheine geschenkt hat. Und einer davon musste in dieser Karte dann natürlich mitverarbeitet werden.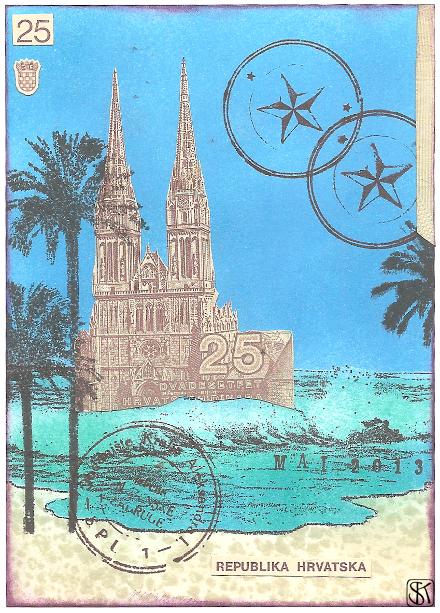 "Colour me happy" is this week's challenge by the three muses. And the one colour that always makes me happy is called peacock feathers.
This card is a memory to our trip to croatia last year. I bought the two round stamps in Split on my birthday. We had a little chat with the stallholder who preferred talking german to us over english. It turned out that for 30 years he worked for the same company my sweetheart does now. Life is funny sometimes, don't you think? And I guess this is how it came about that when we left he gave me some old croatian banknotes. And one of those also had to be incorporated into this card of course.