9. Februar 2014
Bei den Fashionable Stamping Challenges geht es aktuell um Karten und Projekte, die schichtweise aufgebaut sind, dabei müssen mindestens drei Stempel verwendet werden.
Diese Hochzeitskarte durften wir gestern verschenken. Ich habe versucht, die Geschichte des Brautpaars auf 10×15 cm zusammenzufassen: Er (deutsch) machte im Urlaub ein Foto und stellte es ins Internet, das sie (taiwanesisch) für die Zeitung verwenden wollte, für die sie in Taiwan arbeitete. So kam der Kontakt zustande, Besuche folgten und es hat "klick" gemacht.
Der Untergrund ist mit Distress Stains gestaltet. Die Polaroidkamera auf Schrumpfplastik gestempelt und ausgeschnitten. Die Weltkugel in blau und grün ausgestanzt und in Herzform zurechtgeschnitten.
Oh, mir fällt gerade auf, dass dieser Globus auch perfekt zur aktuellen Aufgabe bei Sunday Postcard Art passt: My Heart is Blue for You.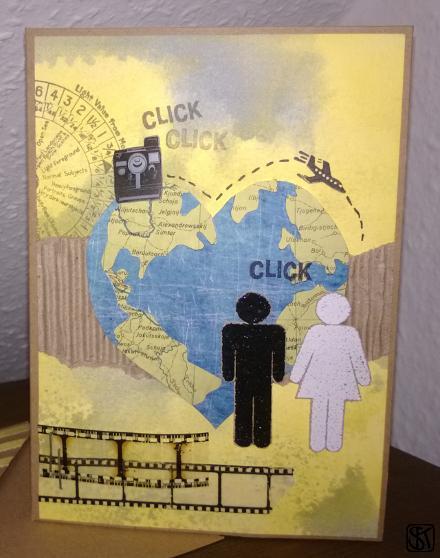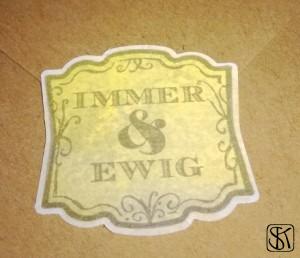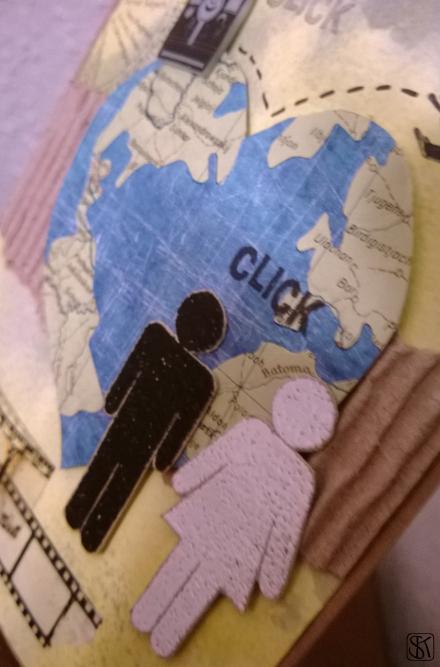 "Build it up" is the current theme at the Fashionable Stamping Challenges. It's all about building up cards and projects layer by layer, a minimum of three stamps is required.
Yesterday we gave away this wedding card. I tried to present the couple's personal story on 4″ x 6" format: He (german) took a photo on one of his vacations and put it on the internet that she (taiwanese) wanted to use for the magazine she worked for. That's how they got in touch, visits followed and they "clicked".
The background is made with Distress Stains. The polaroid camera was stamped on shrink plastic and fussy cut. The globe was die-cut in blue and green then cut into heart-shape.
Oh, I just realized, that heart-shaped globe also qualifies my card for this week's Sunday Postcard Art challenge: My Heart is Blue for You.