16. September 2016
Diese Woche dreht sich bei den Daring Cardmakers alles um Lieblingsbücher, von denen ihr euch zu einer Karte inspirieren lassen sollt.
Ein Lieblingsbuch? Ein einziges? Nicht wirklich!
This week's Daring Cardmakers Challenge is all about favourite books. Let them be your cardmaking inspiration!
One favourite book? A single one? Sorry, not with me!
Als erstes habe ich ein Buch ausgesucht, das noch gar nicht so alt ist und sich eigentlich an ein jüngeres Publikum richtet. Trotz des düsteren Titels finde ich es einfach ganz zauberhaft: Das Graveyard Buch von Neil Gaiman. Es erzählt die Geschichte des Waisenjungen Nobody Owens, der auf einem Friedhof aufwächst nachdem seine ganze Familie ermordet wurde. Klingt furchtbar – ist aber wirklich eine wundervolle und warmherzige Geschichte mit ein paar sehr liebenswerten (Grusel-)Gestalten.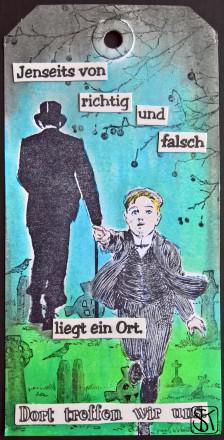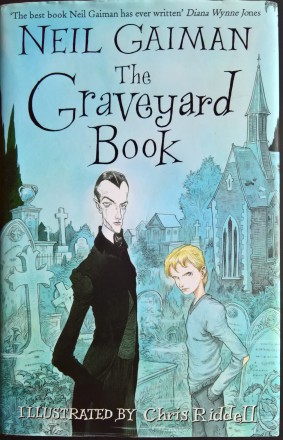 My first choice is a book that I haven't had for a terribly long time and that actually adresses a younger audience. Despite its darkish title I just think it's enchanting: The Graveyard Bood by Neil Gaiman. It's the story of the orphan boy Nobody Owens who grows up on a graveyard after his whole family has been murdered. Sounds gruesome – but I promise that it is a seriously wonderful and warm-hearted story with some very loveable (if sometimes spooky) charakters.
Das zweite Buch ist eigentlich eine ganze Serie. Es geht um die Abenteuer der zwar seelen- aber ganz und gar nicht gefühllosen Alexia Tarabotti. Ein genials Steam-Gothic-Universum, das Steampunk mit (höchst wohlerzogenen) Vampiren und Werwölfen verbindet. Der wirkliche Knaller an dieser Serie ist für mich allerdings die fantastische Sprache der Autorin Gail Carriger. Der Vergleich, den man immer wieder liest, ist zwar sehr hoch gegriffen aber nicht ganz falsch: auch ich dachte beim Lesen des öfteren an Jane Austen.
Die Karte dazu habe ich als Lesezeichen gestaltet, das lag für mich bei dem Thema auf der Hand.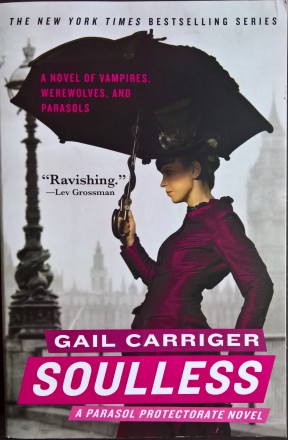 My second book is actually a whole series: The Parasol Protectorate by Gail Carriger. It's about the adventures of the soul- but not at all emotionless Alexia Tarabotti. An awesome steam-gothic-universe that combines a steampunk backgroung with (perfectly well-mannered) vampires and werewolves. But what captured me most is Miss Carrigers beautiful language. A comparison that keeps coming up is reaching rather high but I don't think it's entirely wrong: I, too, was reminded of Jane Austen's works while reading.
I made a bookmark for this one rather than a card – an obvious choice for the theme.