22. Mai 2015
Ich habe heute die ominöse 42 zu feiern und am Montag steht außerdem der Handtuchtag an – gleich ein doppelter Anlass mir für die Daring Cardmakers Challenge diese Woche das Thema Science Fiction zu wünschen. Ein kleiner Anklang an Douglas Adams darf bei mir natürlich nicht fehlen – aber mein Lieblings-Alien ist inzwischen eindeutig Dr. Who. (Wobei der Herr Adams ja auch da seine Finger mit im Spiel hatte.)
Wer ist euer Lieblings-Außerirdischer oder sonstiger Science Fiction-Held?
Schaut unbedingt auch mal auf dem Daring Cardmakers Blog vorbei. Die Mädels haben sich wirklich tolle Sachen einfallen lassen!
PS: Jaaaa, ich weiß, dass Spocks Uniform eigentlich blau und Chekovs Uniform eigentlich golden ist. Aber ich wollte, dass die Karte nicht zu bunt wird und eigentlich sind doch sowieso alle Außerirdischen "grüne Männchen". Wobei Chekov strenggenommen kein Außerirdischer… ach, lassen wir das!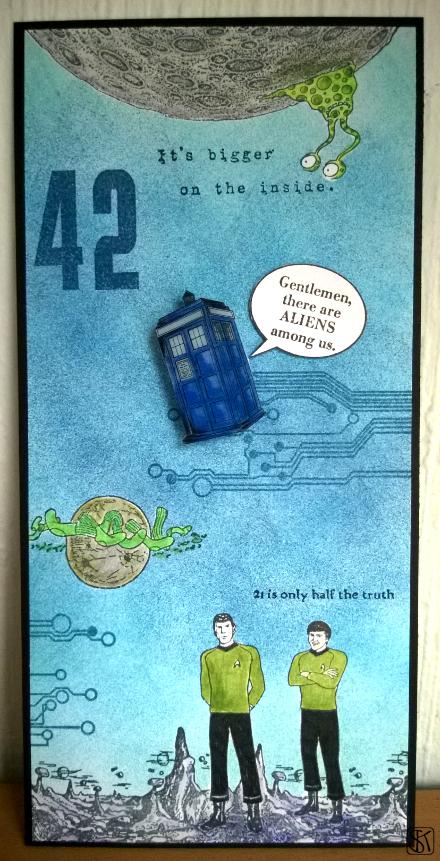 I have the ominous 42 to celebrate today and also it's towel-day on monday – two reasons to choose science fiction as this week's Daring Cardmakers challenge. Of course I can't do without a little tribute to Douglas Adams – but my favourite space-alien these days is definitely Dr. Who. (In the past of whom Mr. Adams has also been involved at times.)
Who is your favourite space-alien or other sci-fi-hero?
You really also should take a look at the Daring Cardmakers blog: the ladies have come up with some amazing ideas!
PS: Yes, I know that Spock's uniform is actually blue and Chekov's is golden but I didn't want too many colours on the card.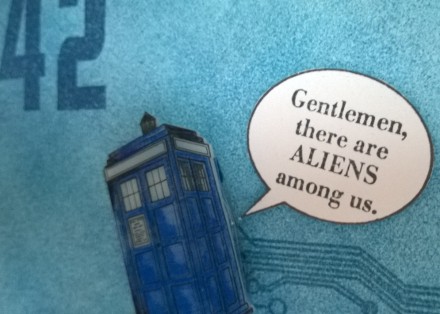 Die Tardis habe ich wegen der besseren Flugdynamik auf ein "Wobble" gesetzt.
I put the TARDIS on a "wobble" for better flight dynamics.