16. Oktober 2014
Um gedruckte Worte geht es diese Woche bei den drei Musen. Ich habe für meine Karte unter anderem bunt angesprühtes Braille-Papier benutzt.
Und nachdem ich eine halbe Stunde lang erfolglos mit der Nähmaschine gerungen habe, habe ich die Nähte dann doch (in ein paar Minuten) von Hand eingefügt. Grumpf.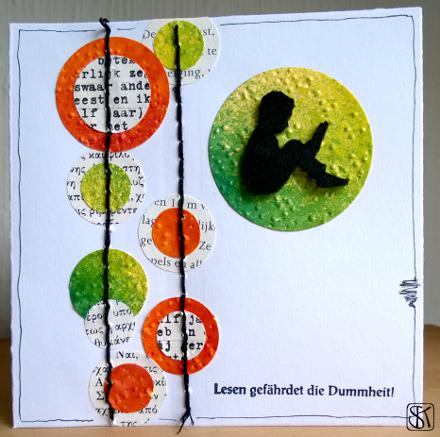 It's all about the printed word at the Three Muses' this week. Among other things I used some Braille-print paper that I sprayed with Dpylusions.
And after fiddling with the sewing machine for half an hour without the slightest success I added the stitches by hand (within a few minutes). Don't you hate those days?
The text translates: "Reading puts stupidity in danger."