25. Oktober 2013
Unser Geburtstagsmonat bei den Daring Cardmakers neigt sich dem Ende zu. Und ganz zum Schluss ist mein Lieblingsthema dran: Halloween! Tando Creative hat uns mit ganz phantastischen Chipboards versorgt. Außerdem habe ich mit meiner neuen Hexen-Wäscheleinen-Stanze gespielt, die ich mir beim Stempel-Mekka gegönnt habe. Perfekt wäre natürlich eine halloweenige Geburtstagskarte gewesen, aber ich hatte einfach keine richtige Idee dafür.
Auch diese Woche gibt es nochmal was zu gewinnen: Chipboard von Tando und ein Stempelset von Imagine That!
Und dann gibt es noch ein paar Extra-Preise. Und dafür braucht ihr noch nicht mal eine Karte zu zeigen sondern müsst nur an unserem Blog-Hop teilnehmen.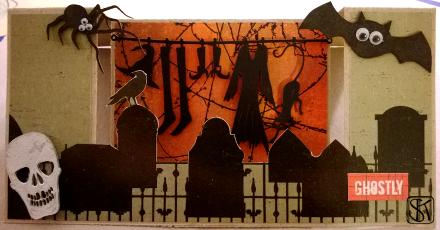 The Daring Cardmakers birthday celebrations are slowly coming to an end. And we saved the best for last – my alltime favourite: Halloween! Tando Creative have generously equipped us with some really gorgeous chipboard. Also I took the chance to play a little with my brand new witches-laundry-line-cutting die. The perfect thing of course would have been to create a halloween-style birthday card, but I just couldn't come up with a decent idea.
And there's prizes to be won again: Chipboard byTando and a stamp set by Imagine That!
And still some more prizes if you take a ride on our blog-hop…