25. Oktober 2015
Nachdem Ulrike schon nachgefragt hatte, möchte ich euch meine Magritte-Karten natürlich nicht vorenthalten. Magritte gehört zu meinen Lieblingskünstlern, so dass mir diese Karte recht leicht gefallen ist. Naja, so richtig viel Kreatives was natürlich nicht dabei, denn das Hauptmotiv war ja quasi schon "fertig".
Passt außerdem zur aktuellen Challenge bei den drei Musen: Artist / Artist Style.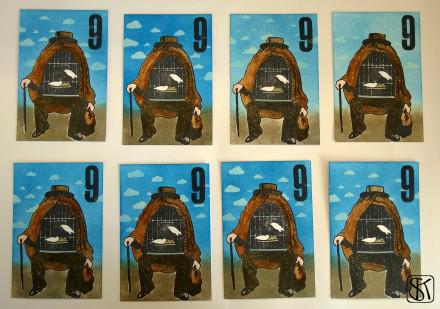 I made these cards for a long-running project: this year our group of 9 stampers has chosen an artist for every month. In september this was René Magritte, one of my favourites, so for once an easy one – although I don't consider my cards super creative, as the main motive was basically "ready-made".
Also I'm entering the current Artist / Artist Style challenge at the three muses.