11. Dezember 2015
Diese Woche sind bei den Daring Cardmakers Karten gefragt, auf denen sich Text in einer Sprache findet, die wir sonst eher nicht benutzen. Da ich ständig englischsprachige Stempel benutze, fiel das schon mal aus und ich habe mich stattdessen für französisch entschieden.
Der Text bedeutet soviel wie: Es ist überhaupt nicht notwendig vor der Kamera zu stehen um sich (bzw. seinen Charakter) zu enthüllen.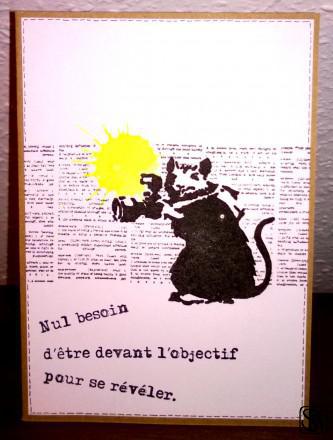 This week's Daring Cardmakers challenge is to use text in a language that you don't usually use. As I use so many stamps containing english language I didn't consider that an option and went for french instead.
The text roughly translates: It's not at all necessary to be in front of the camera to reveal yourself.