13. Januar 2017
Kathy hat uns diese Woche bei den Daring Cardmakers dazu aufgefordert etwas Neues auszuprobieren. Also habe ich endlich das Yupo-Papier ausprobiert, dass ich mir schon vor Monaten gekauft habe. Ich habe darauf dann schön mit Alkoholfarben rumgematscht – auch (fast) ein Novum für mich. Dieser Trend ist damals an mir vorbeigegangen. Ich habe denn auch hauptsächlich meine Copic-Nachfüller benutzt, da ich kaum andere Alkoholfarben besitze. Ist auf jeden Fall ausbaufähig würde ich sagen.
(Ich habe übrigens noch etwas anderes Neues ausprobiert, aber ich kriege das Foto gerade nicht vom Handy runter. Ich hoffe, ich kann da in den nächsten Tagen noch nachliefern.)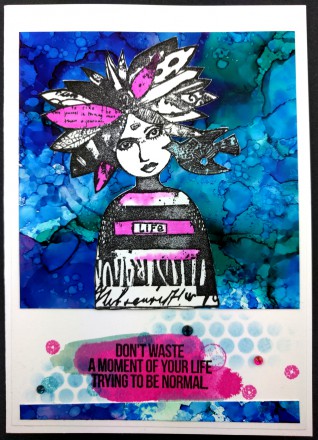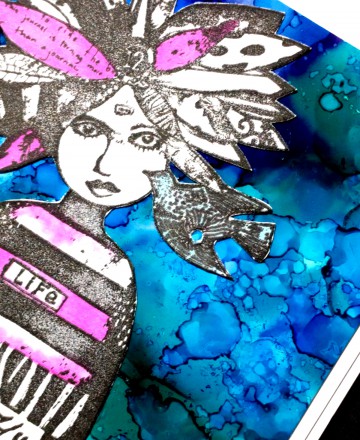 This week at the Daring Cardmakers' Kathy has challenged us to try something new. So I finally got out the Yupo-paper I bought months ago and had a play with some alcohol inks. Also (almost) new to me as these colours passed me by when they were really on-trend. Therefore I have mostly used Copic-refills for lack of other alcohol inks. I'd say the technique is well worth another try.
(I have tried something else as well but can't manage to move the pic from mobile phone to laptop atm. Hope I can show you in a couple of days.)