14. April 2018
Vor einer Weile habe ich mal erwähnt, dass wir uns im Rahmen des Langzeitprojekts im Jahr 2016 durch eine Liste von 12 Tieren gestempelt haben. Und irgendwann sehr viel später habe ich es auch geschafft, ein kleines Dankeschön für die liebe Heidi zu basteln, die sich um das Tauschen der Karten kümmert und sich nach Kräften müht, uns alle bei der Stange zu halten. Und weil sich diese Woche bei den Daring Cardmakers alles um Tiere dreht, zeige ich sie euch nun auch endlich.
Die Tiere des Jahres 2016 waren:
Adler, Elch, Erdmännchen, Fisch, Frosch, Giraffe, Kuh, Leguan, Möwe, Pferd, Schwein und Wildkatze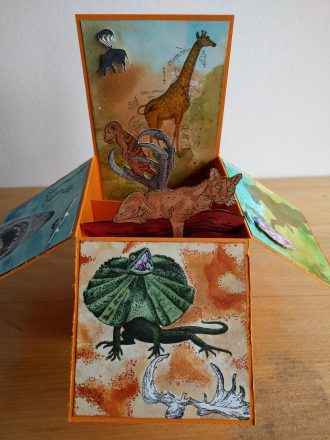 Quite a while ago I told you a little about a longterm-project that I'm part of. In 2016 we all stamped our way through a list of animals. And quite some time later I managed to make this little thank-you for dear Heidi who takes care of swapping our cards and keeping us all going.
This week at the Daring Cardmakers' is all about animals and so here they are – the animals of 2016:
eagle, moose, merkat, fish, frog, giraffe, cow, iguana, seagull, horse, pig and wildcat.