27. Juli 2018
Diese Woche darf ich mal wieder das Thema bei den Daring Cardmakers stellen und habe mich dabei – nachdem es neulich Abschiedskarten aller Art gab – für Willkommenskarten entschieden.
In meinem Fall soll (mit reichlich Verspätung meinerseits) ein neuer Erdenbürger willkommen geheißen werden.
Aber natürlich gibt es auch andere Gelegenheiten, bei denen man jemandem sagen möchte: "Hey, willkommen, schön, dass du da bist!" Also – über wen freut ihr euch gerade?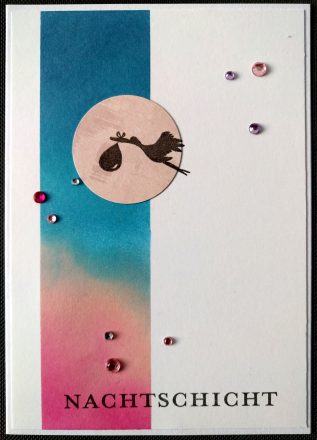 It's my turn to set the Daring Cardmakers challenge theme this week – and after a bunch of farewell cards some weeks ago – I decided on welcome cards.
Mine is for a new baby, the text translates "nightshift".
But of course there are also many other opportunities when we want to tell someone "Hey, welcome, I'm glad you're here!" So – who are you happy about right now?