15. Februar 2019
            …oder so ähnlich. Ich vermute mal, dass Sylvia Buchtstabennudeln im Sinn hatte, als sie das Daring Cardmakers-Thema für diese Woche ausgesucht hat: Alphabet Soup. Packt eure Karten voll mit Buchstaben, Wörtern und/oder Zahlen.
Ich habe mal wieder mit der Gelliplate gespielt und danach noch grobe Strukturpaste durch ein Stencil aufgetragen. Gelernt habe ich dabei, dass man zusätzliche Hintergrundstempeleien doch besser vor der Strukturpaste anbringt… hmpf.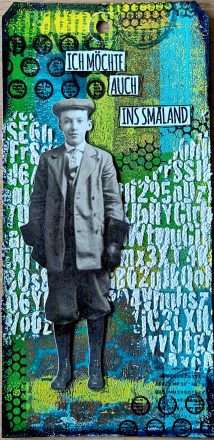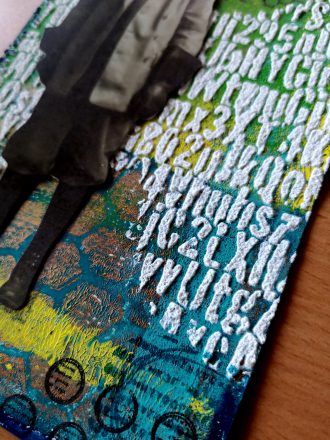 This week's theme at the Daring Cardmakers' is called Alphabet Soup. We want to see letters, words and/or numbers on your cards.
I had another play with my Gelliplate then added rough structure paste through a stencil. Lesson learned: add background stamping before structure paste next time… hmpf.
Text translates: I want to go to (Ikea-)Smaland, too.