1. Mai 2020
Könnt ihr glauben, dass es schon Mai ist? Irgendwie kommt es mir vor, als hätte ich dieses Jahr ein paar Wochen verpasst… aber das geht uns momentan wohl allen so.
Bei den Daring Cardmakers gibt es diese Woche wieder mal ein schönes Moodboard zur Inspiration. Ich habe mich für die Farben, Streifen, Schuhe, Blumen und einen Holzhintergrund entschieden. Letzterer war übrigens ganz beliebt, jedenfalls beim deutschen Teil des Designteams. Den Spruch verbinde ich mit der Hoffnung auf bessere Zeiten. Seufz.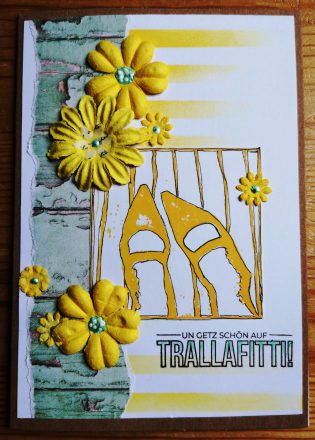 Can you believe it's may already. Sorta feels like this year has skipped a couple of weeks… iykwim
The Darings Cardmakers have prepared a lovely moodboard to start the new month. I went for colours, stripes, shoes, flowers and woodplanks.
The text isn't really translatable but points at having a great evening out – I'm hoping for better times, there.