2. Mai 2010
"Genähtes" ist diese Woche bei Sunday Postcard Art gefragt. Da ich zu diesem Thema quasi gar keine Stempel besitze, ist es diesmal eine reine Collage geworden. Das Material habe ich aus einer Sibylle-Ausgabe von 1967. Sibylle? War ein Flohmarktkauf über den ich mir zunächst keine weiteren Gedanken gemacht habe, erst heute habe ich bemerkt, dass die Zeitung in Leipzig verlegt wurde – also quasi die östliche Schwester der Brigitte. Jetzt wundert mich auch nicht mehr, dass ich von dieser Zeitschrift noch nie gehört hatte!
P.S.:
Ich musste dann doch nochmal nachschauen, wie das mit der Sibylle genau war und möchte mich hiermit in aller Form für den Vergleich mit der Brigitte entschuldigen, Sibylle galt als die Ost-Vogue!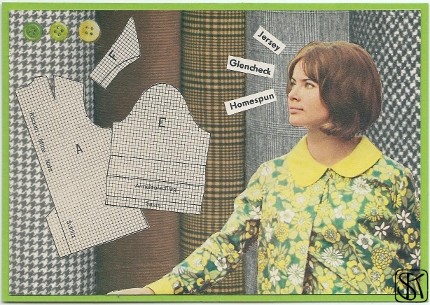 "Sewing" or anything related is this week's challenge at Sunday Postcard Art. As I have nearly no sewing-related stamps I did a collage. The material is from a women's magazine from 1967: Sibylle. I bought it in a bootsale and only realized today that the magazine was published in Leipzig, GDR. So it's no longer a mystery that I've never heard about this magazine before!