20. März 2013
Ballons sind die aktuelle Herausforderung bei den drei Musen. Ich habe einen Notizbuchrohling benutzt und ein bisschen herumexperimentiert. Die Frontseite mit dem Ausschnitt habe ich mit schokobrauner Metallfolie bezogen, die ich mit Linien- und Kugelwerkzeugen bearbeitet habe. Dann habe ich noch ein wenig Alkoholfarbe draufgetropft. An diesen Stellen hat sich die braune Farbe aufgelöst und man sieht fast nur noch das draufgetropfte Dunkeltürkis. Der kleinere Ballon ist auf transparentes Schrumpfplastik gestempelt und von der Rückseite mit Metallicmarkern (Letraset) bemalt, die kleinen Zahnräder sind aus Schrumpffolie ausgestanzt und ebenfalls mit den Markern coloriert. Und die Dosenringe kennt ihr ja schon.
Und so sieht das Buch aufgeschlagen aus. Kaum zu glauben, dass der Ballon innen und außen ein und derselbe Stempel ist!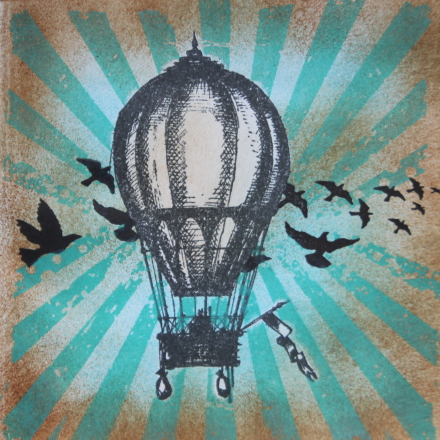 The three muses have asked for balloons this week. I used a blank book here to experiment a little. The front had this cut-out already. I covered it in chocolate-brown metalfoil that has been imprinted with different tools to create a rivet-effect. I dripped a little alcohol-ink on the metal which caused the brown colour to desolve and only left the dark turquois visible. The smaller balloon was stamped on transparent shrink-plastic and coloured with metallicmarkers (Letraset) from the backside. The tiny gears were die-cut from shrink-plastic and coloured with the same markers. And you've seen those ring-pulls in my creations before.
The second picture shows the first page of the opened book. I'm finding it hard to believe that the two balloons are actually one and the same rubberstamp!