26. April 2013
Diese Woche gibt es bei den Daring Cardmakers ein "Rezept": man nehme
– die Farbe blau (ist klar. wir haben diskutiert und türkisblau gilt auch.)
– etwas, das mit dem Buchstaben P beginnt (die gelben Punkte)
– eine Öffnung (die habe ich in das Zickzackpapier gestanzt um den Rahmen zu bekommen)
– etwas gestantes (die kleinen Sterne)
Tja, und damit ist meine Zeit als Gastdesignerin dann auch schon wieder vorbei. Aber: kein Grund zum Traurigsein – ich darf bleiben und bin ab sofort reguläres Mitglied des Designteams!!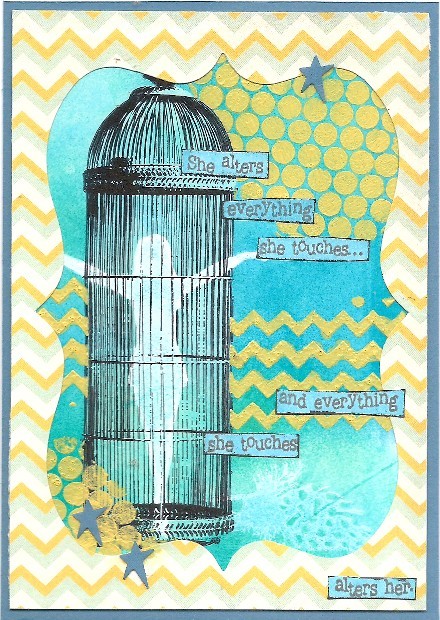 This week the Daring Cardmakers have posed a recipe-challenge.
– the colour blue (obvious. we discussed it and turquois-blue does count.)
– something starting with the letter P (the yellow polka-dots)
– an aperture (I die-cut it into the chevron-patterned paper to make the frame)
– something punched (the little blue stars)
And with this my stay as a guest designer on the DCM-team is already over. But there's no reason for distress – I have been allowed to stay around and am now I regular team member!!