27. Juni 2014
Miri hat sich diese Woche für die Daring Cardmakers eine ganz besondere Herausforderung ausgedacht: wir sollten unsere Karte machen, ohne dabei eine Schere zu benutzen. Klingt einfach? Nicht für mich, denn als erstes kommt für mich ja in aller Regel das Maskenschneiden dran. Ein bisschen improvisieren musste ich bei dem Tag natürlich trotzdem. Für das kleine Fähnchen habe ich ein Perforierwerkzeug benutzt und den Draht habe ich kurzerhand durchgebissen (keine Sorge, der ist wirklich ganz dünn). Und beim Motiv habe ich ja irgendwie schon ein bisschen geschummelt.
Der Untergrund ist ein Tag aus Chalk-Papier. Und mal ehrlich: kann mir bitte jemand sagen, wozu das Zeug gut ist? Die Dinger schlucken so dermaßen viel Farbe, dass sowohl Dylusions als auch Distressfarben und sogar Ölkreiden völlig verblassen. Soll das so? Ich habe mich dann schlussendlich auf Acrylfarbe verlegt, das ging. Aber diese Tags waren für mich bisher ein echter Fehlkauf. Kann mir jemand weiterhelfen, was der besondere Zweck dieses merkwürdigen Papiers ist? Hülfe!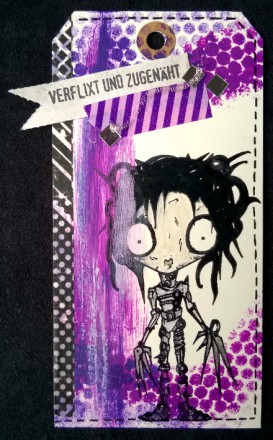 Miri has thought of a rather special Daring Cardmakers' challenge this week: make a card without using scissors. Sounds easy? Not for me because usually the first thing I do when starting out on a new card is cutting the needed masks. Of course I still had to improvise a little. Made the little strip of paper using a perforating tool and simply used my teeth to "cut" the wire (don't worry, it's really, really thin). But I did fudge on the motive a little…
The text literally translates something like "Botheration and stitched up" which actually just means bother in a sense of very mild swearing.
I used a chalk-paper tag for the base. And seriously: can somebody please tell me what that stuff is actually good for? They soak up so much colour that no matter what I used – Dylusons, Distress inks, even oil pastels – turned completely pale. Is it supposed to do that? So far these tags have been a complete mispurchase for me. Can somebody help me and explain the special purpose of this peculiar paper? Please?