21. Juli 2014
Bei Manuelas MiFoC dreht sich diese Woche alles um Getränke. Mein Jedentaggetränk ist – genau wie bei Manuela – stilles Wasser. Mein Spaßgetränk für diesen Sommer ist Fassbrause mit Rhabarbergeschmack. Aber wenn es so richtig heiß ist, wie am letzten Wochenende, gibt es nur eins: selbstgemachtes Ingwerbier!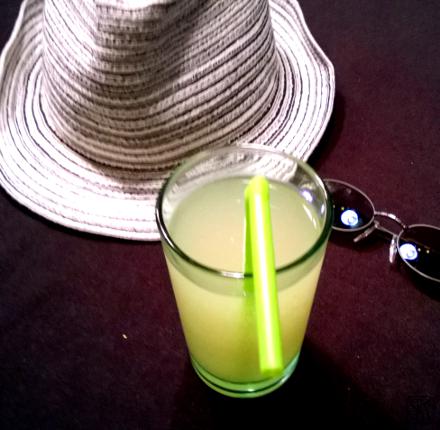 Ich habe genommen:
5 Limetten, ausgepresst
3 EL braunen Zucker (ihr könnt mehr nehmen, wenn ihr es lieber süßer mögt)
ein nicht ganz daumengroßes Stück frischen Ingwer, geschält und gerieben
Zusammenrühren bis sich der Zucker löst und ein paar Stunden im Kühlschrank durchziehen lassen. Durch ein Sieb passieren um die Ingwerstückchen loszuwerden Dann mit Blubberwasser (ausnahmsweise) auffüllen. Es ist süß, sauer, scharf – und sooo erfrischend!
Manuela's MiFoC challenge is all about drinks this week. My everydaydrink is – just like Manuela's – still water. My fun drink for this summer is draft-brewed lemonade (Fassbrause) with rhubarb flavour. But when it's really, really hot outside there's only homemade ginger beer to go for.
I took:
5 limes, thoroughly squeezed
3 tablespoons brown sugar (you can take more if you like it sweeter)
a piece of fresh ginger, a little smaller than my thumb, rough skin removed and then grated
Mix together until the sugar dissolves. Leave to stand in the fridge for a couple of hours. Pass through a sieve to get rid of the little ginger pieces and fill up with sparkling water. It's sweet, it's tart, it's hot – and it's sooo refreshing!