23. September 2016
Diese Woche hatte Miri bei den Daring Cardmakers die Idee, dass wir uns von anderen Künstlern inspirieren lassen sollen – und zwar von solchen, die noch nicht furchtbar berühmt sind (Blogs sollen weniger als 400 Follower haben). Ein ständiger Quell der Inspiration, des Staunens und des Neides sind für mich die Arbeiten von Ulrike.  Ihr ab und zu beim Arbeiten zuschauen zu dürfen ist absolut großartig – wie sie ihre Werke scheinbar aus dem Ärmel schüttelt, lässt mir immer wieder den Mund offen stehen. Und dann sagt sie so Sätze wie "da hab' ich ja nur mal was ausprobiert". Toll, solche Menschen zu kennen – und regelmäßig ihre Werke in Händen halten zu dürfen!
An dieser Karte war Ulrike nicht nur als Inspirationsquelle nicht ganz unmaßgeblich beteiligt: sie hat mir nämlich irgendwann gesagt, dass ich gefälligst aufhören soll noch weiter daran rumzumachen. Bei ihr abgeguckt habe ich mir dabei übrigens die Verwendung meines Schmierpapiers als Hintergrund.
Mit dieser Karte möchte ich auch an der aktuellen Craft Stamper Take it – Make it Challenge teilnehmen.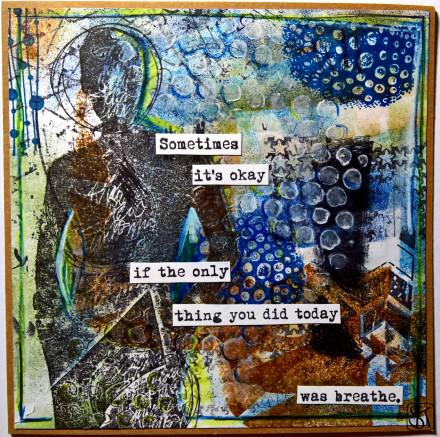 This week at the Daring Cardmakers' Miri asked us to let ourselves be inspired by other artists' work – from artists who are not (yet) super-famous (blogs should not have more than 400 followers). A constant source of inspiration, awe and envy are my friend Ulrike's creations. Watching her at work now and then is just awesome – and often leaves me open mouthed because she makes these things look super-easy. And then she'll say something like "I only tried something out." It's wonderful to know such people – and to receive some of her beautiful work on a regular basis.
Ulrike was involved in the making of this card not only as a source of inspiration (in style and use of leftover materials) but also pretty directly: at some point she told me that I really needed to stop working on it! (Yes, knowing where to stop is an art in itself. Sigh.)
This card is also my entry for the current Craft Stamper Take it – Make it Challenge.