7. Oktober 2016
…bei den Daring Cardmakers. Gez hat sich ein entsprechend herbstliches Foto als Oktober-Anfangs-Inspiration ausgesucht. Ich habe ein bisschen mit meinen neuen Distress Crayons gespielt (bin bisher ganz zufrieden damit) und folgende Elemente aufgegriffen: schwarzes Pferd, Farben, Laub, Holzzaun.
Dank der Farben qualifiziert sich meine Karte auch für die aktuelle Craft Stamper Take it – Make it Challenge: Herbst.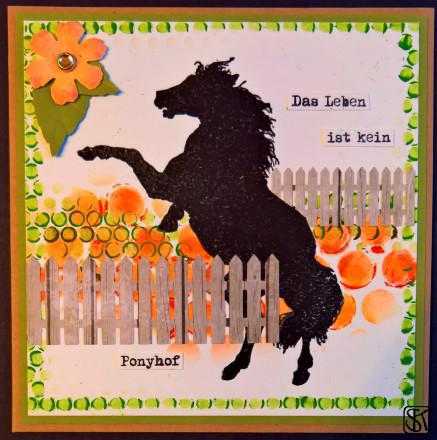 Fall is coming… and it doesn't pass them Daring Cardmakers by. Gez has chosen a suitably autumny photo for her october elemental inspiration. I had a play with my new Distress Crayons (quite happy so far) and chosen the elements black horse, colours, leaves, wooden fence.
The text translates "life is not a ponyfarm" – probably similar to "life is not all beer and skittles" iynwIm.
Thanks to the colour scheme my card also qualifies for the current Craft Stamper Take it – Make it Challenge: autumn.