16. Oktober 2016
Am Freitag war es meine Aufgabe die neue Challenge für die Daring Cardmakers zu erstellen und ich habe mich für das Thema "True Colours – ernsthaft monochrom" entschieden. Ich bin schon seit einer ganzen Weile Teil einer kleinen aber sehr feinen True Colours-ATC-Tauschrunde – und so langsam gehen uns die Farben aus. Meine beiden Mitstreiterinnen waren allerdings wenig begeistert, als ich daher die Farben "schwarz" und "weiß" vorgeschlagen habe – und so wollte ich ihnen beweisen, dass es geht.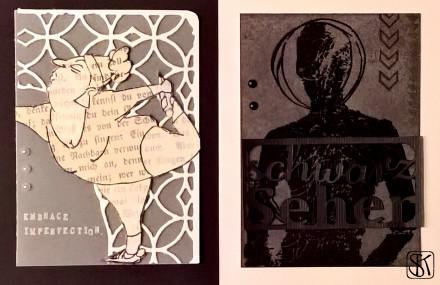 Im Doppelportrait kommen die Farben leider nicht so gut raus – dafür kann man den Text auf dem weißen ATC besser lesen.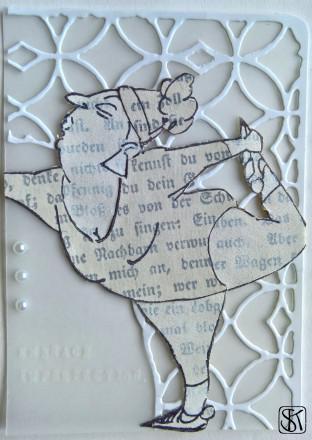 Ganz in weiß… mit Vellum, gestanztem Glossypapier und unterschiedlich stark geweißter Buchseite.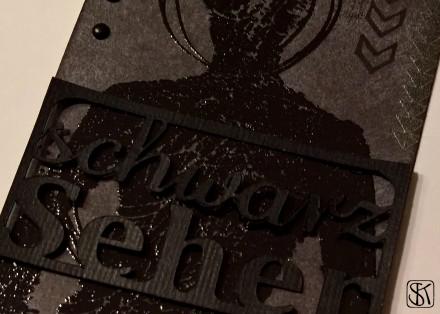 Schwarz gewischter Hintergrund mit embosstem Hauptmotiv, Plotterei aus schwarzem Karton und Stempelei mit VersaFine Onyx und Brilliance Starlight Black.
*
I had to choose last friday's Daring Cardmakers' challenge and decided to go for a strictly monochrome theme: True Colours. I have been part of a small (or should I say exclusive) True-Colours-ATC-swap for quite a while now – and we're sort of running out of colours now. My two friends weren't very amused, though, when I suggested to have "black" and "white" as our next two colours – and made me want to prove to them that it is indeed possible.