30. März 2018
Diese Woche dreht sich bei den Daring Cardmakers mal nicht alles um die Hand-Arbeit sondern um die Möglichkeiten, die der PC so bietet. Es musste also ein digital erzeugtes Element auf die Karte. In meinem Fall ist das die tolle Säule – die ich liebend gerne in so einer Größe auch als echten Stempel hätte. Der Hintergrund ist mit der Gelliplate gemacht.
Die Karte soll an einen Freund aus Frankreich gehen, der demnächst 70 wird – auf Französisch soixante-dix also quasi zehnundsechzig. Und weil er nicht so gerne älter wird, habe ich die 10 ein bisschen kleiner gemacht.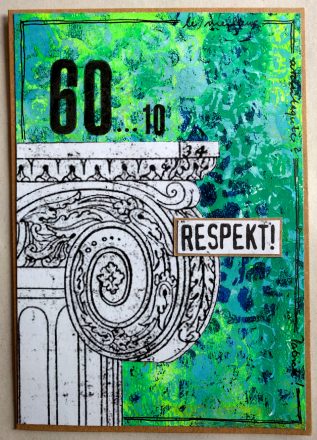 This week it's not so much about hand-crafting at the Daring Cardmakers' but about all the options the PC offers us in our crafting – digital elements to feature on our cards. I went for this gorgeous column that I printed from the internet – and that I'd love to have als a real rubberstamp in such a size. The background was gelli-printed.
The card ist for a friend from France who is turning 70 – soixante-dix in French which would be sixty-ten in English. As he doesn't like getting older so much I decided to have the 10 a little smaller.