23. Februar 2018
Diese Woche darf ich mir bei den Daring Cardmakers das Thema aussuchen. Und weil ich es nicht erwarten kann, dass es endlich, endlich Frühling wird habe ich mir frisches Grünzeug gewünscht und zwar unter Einsatz von Stencils.
It's my turn to choose the Daring Cardmakers challenge this week. And as I just can't wait for spring to come I wished for some fresh green and a use of stencils.
*
Für die erste Karte habe ich nach längerer Zeit mal wieder meine Gelliplate herausgeholt. (Und freue mich jetzt noch ein bisschen mehr auf einen Workshop am nächsten Wochenende…)
For card no. 1 I got out my Gelliplate after a while. (And am now looking forward to a workshop on the upcoming weekend even more…)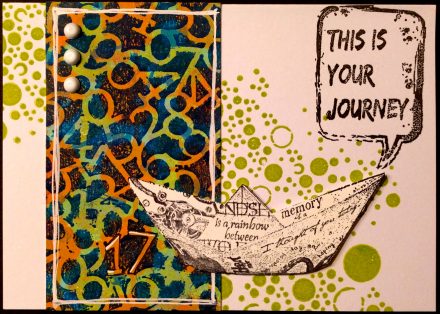 Karte Nr. 2 ist quasi ein Bonus. Das eigentliche Projekt war eine Altered Book-Doppelseite zum Thema True Colours. Da wir die Bücher mit mehreren Frauen untereinander austauschen, bekommt jede Teilnehmerin als Erinnerung ein ATC, das zur Seite passt.
Card no. 2 is quasi a bonus. The actual project was a true colours-themed altered book-spread. We're doing a round robin with several books and every participant recieves an ATC to match the spread as memorabilia.