15. August 2009
Letzte Woche war ich mit dem Auto auf der Landstraße unterwegs, vor mir ein Trecker mit Anhänger, der Stroh geladen hatte. Da die Strohballen offen auf dem Hänger lagen, lösten sich während der Fahrt jede Menge kleine Strohschnipsel und wirbelten um mein Auto herum – ich habe mich gefühlt wie in einer schnulzigen Filmszene! Meine Karte gibt leider nicht die schönen leuchtenden Farben dieser Szene wieder, aber dafür passt sie zur heutigen Herausforderung bei Saturday Surprise.
@ Gabi: Das Knubbelgras ist von Artemio (Magenta?). Den Stempel habe ich in Zeist bei creafine.nl gekauft.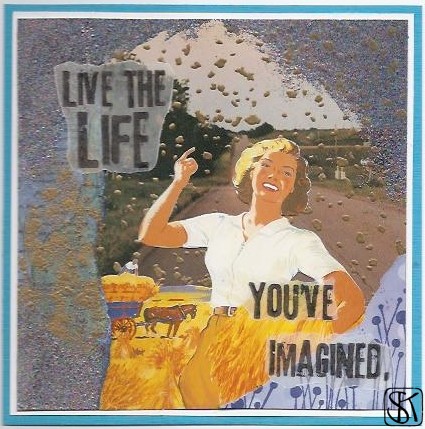 Last week I drove through the countryside, in front of me a a tractor with a trailer that was loaded with straw. As the bales weren't covered, lots of little scraps freed themselves during the drive and spun all around my car – it felt like one of these schmaltzy moviescenes! Unfortunately my card doesn't reflect the beautiful brilliant colours of the real scene, but it matches this week's challenge at Saturday Surprise.