7. August 2015
Gefühlt bin ich schon mitten drin im August, aber tatsächlich ist heute der erste Freitag des Monats und damit wieder Zeit für eine Foto-Inspiration bei den Daring Cardmakers.
Das Foto kommt heute von mir, es ist im letzten Herbst in New York entstanden und zwar im "artists & fleas"-Bereich des Chelsea Market. Die Schubladenbox hätte ich nur zu gerne mitgenommen, aber sie passte einfach nicht mehr in die Tasche…
I feel like it's already the middle of august but it's actually only the month's first friday – meaning that it's about time for another Daring Cardmakers Elemental Inspiration picture.
The picture was taken in New York last september at the "artist & fleas"-section of Chelsea Market. I would have loved that chest of drawers as a useful souvenir but it just wouldn't fit into our luggage…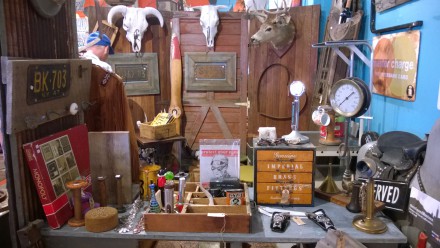 Drei Elemente vom Foto sollten es für die Karte mindestens sein. Ich habe mich für die Schutzbrille, das alte Telefon, die Skala eines Messgeräts und die Blau- und Brauntöne entschieden. Dank Hermines Tutorial im neuen Craft Stamper hat auch die Umsetzung mit Brushos tadellos geklappt.
We had to choose at least three elements from the picture for our cards and I went for goggles, the old phone, a measuring scale and the blue/brown colours. Thanks to Hermine's tutorial in the latest Craft Stamper edition I was even successful with my use of Brusho colours.