16. Januar 2018
Kennt ihr sowas auch? Ich meine, jedes Jahr kaufe ich einen Terminkalender für's Wohnzimmer. Immer einen Fotokalender zum Selbstgestalten. Jedes Jahr nehme ich mir vor, dass da Karten von mir drauf sollen. Hab ich noch nie geschafft. In guten Jahren habe ich tatsächlich ein paar Fotos aufgeklebt aber oft genug sind die Kalender auch komplett undekoriert geblieben.
Und dann bewundere ich seit Jahren Ulrikes kunstvolle Kalenderbilder. Und denke mir, dass ich das zumindest auch mal versuchen könnte. (Auch wenn ich mir ihrem künstlerischen Niveau nie nicht werde mithalten können – aber Hauptsache es macht Spaß, oder?) Und dieses Jahr will ich den Versuch endlich wagen! Hier mein Werk für den Januar – mit Sternennacht (sollte eigentlich ein Feuerwerk werden), Hochzeit und Theater (Hamlet – daher der Totenschädel).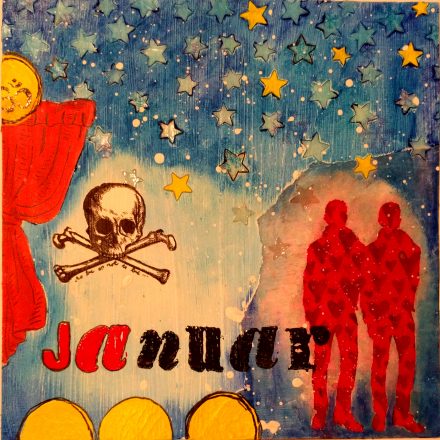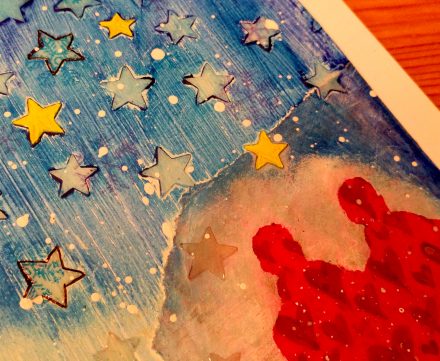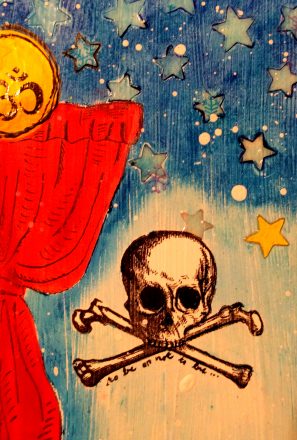 Every year I buy a calender for the living room that contains birthdays, parties and household tasks. Every year it's one to decorate on your own – but I rarely actually do. In good years I'll manage to stick on some photos but that's really it.
And then I've been admiring Ulrikes calender-art for years… and this year I'm finally going to try it out for myself!