20. Mai 2016
Regenbögen hatten wir hier in den letzten Wochen ja reichlich und so ganz scheint das Thema ja auch noch nicht vorbei zu sein. Lythan hat sich diese Woche bei den Daring Cardmakers Karten in Regenbogenfarben gewünscht – es müssen zwar nicht alle Farben verwendet werden aber sie müssen in der richtigen Reihenfolge auftauchen.
We had lots of rainbows here in the last couple of weeks and the required weather doesn't seem to be stopping soon. Lythan has asked us for some Daring Cardmakers cards in rainbow colours this week – we don't have to use all the rainbow's colours but they need to be in the right order.
Angefangen habe ich mit einem Tag. Aus gegebenen traurigem Anlass musste der Regen dabei natürlich lila sein.
I started out making a tag. Due to recent sad occurences the rain of course had to be purple.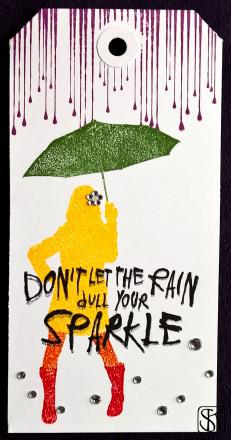 Und weil ich gerade so schön dabei war, habe ich noch eine Karte gemacht:
While I was at it I also made a card: